Student Web Pages
Links to Students' Web Pages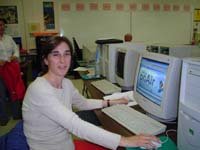 ESL Computer students have the option of learning how to design and build sites for the Internet. Many of them have made their work available for public viewing.
It can be an exciting experience to design and write your first HTML and then see the results on your computer screen. We learn HTML coding so students will not be dependent on any additional software to build their sites.
---
Do you want to work from home? Click on the image below.

---
Once students have learned HTML they go on to learn programs like Dreamweaver, PhotoShop, Corel Draw, Fireworks and Flash. This gives them the ability to incorporate a wider variety of graphical elements into their creations.
If you are hosting your website on Geocities please note that the free service is closing on October 26, 2009.