Ottawa - Canada's Capital
Ottawa is Canada's Capital and the country's fourth largest city. Over 1.2 million residents call it home. The region is 4,662 square kilometres (1,800 square miles) in size with over 90% of its area being in a country setting. It is one of the most beautiful cities in the world.

Education
University of Ottawa, Carleton University and St. Paul's University are major educational institutions in the city. Algonquin College and La Cité collégiale are also major post-secondary institutions. More than 200,00 students attend these universities and colleges.

Primary and Secondary education is free and available in both official languages - English and French.

Free English as a Second Language classes are offered to adult immigrants at our ESL Schools.

Our National Anthem

O Canada!
Our home and native land.
True patriot love in all thy sons command.


With glowing hearts we see thee rise,
The True North strong and free!


From far and wide,
O Canada, we stand on guard for thee.


God keep our land glorious and free!
O Canada, we stand on guard for thee.


O Canada, we stand on guard for thee.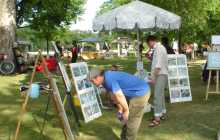 Festivals
This city is a city of festivals. Some of the major musical events in the summer are The Jazz Festival, Blues Fest, The Chamber Music festival. Art in the Park, at beautiful Strathcona Park, gives local artists an opportunity to display their work and supports the Schizophrenia Society. In winter Winterlude is the main attraction with Rideau Canal, the world's largest ice skating rink, being the locus of activities. Spring is greeted by the colourful Tulip Festival.
Sports and Recreation
The Senators is our National Hockey League (NHL) hockey team. The Ottawa Renegades football team is part of the Canadian Football League (CFL). The Lynx is city's triple-A Baseball team and games are played at the Lynx Stadium. There are active soccer and cricket teams in the city. There are plenty of bicycle paths maintained by the National Capital Commission (NCC) in the city and going into the nearby Gatineau Park. Gatineau Park is a beautiful escape just minutes from the city, with lakes, hiking trails and picnic areas. In winter it becomes a popular venue for cross country skiing and snowshoeing. There are also plenty of cross country ski trails within the city.
Climate
Canada's capital can be a city of extreme temperatures with lows dropping to -40 degrees Celsius in winter to highs of 35 degrees Celsius in summer.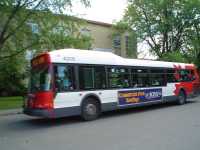 Public Transportation
OC Transpo operates and runs Ottawa's Bus Transit System. Clean, efficient and a reliable means of transportation for thousands of Ottawa's students. The O-Train, a light rail train system, is fully integrated with the bus service and provides increased commuting options. Bus stops are located adjacent to each station. In the image on the right an OC Transpo bus is seen in front of the Continuing Education Centre at St. Nicholas Adult High School (West Campus), where ESL classes are offered.
The city is alive with a wide range of cultural and historical sites, which offer visitors endless sightseeing opportunities. One of North America's oldest cities, Montreal is just a two hour drive away. Famous for its nightlife, rich culture and variety of activities, it is a popular destination for a day trip.
For more detailed information on some of the prominent attractions within the National Capital visit the city's official website.